Review and Conclusion
Please as final event activity complete this survey so we can gauge your thoughts, feelings and also how much your have learnt about social media, We hope you have enjoyed the experience and that you have gained some useful knowledge and skills for classroom applications.
http://Click here to take survey
A Teachers Response.
As part of this event we invited current teachers to respond to some questions about their experiences with social media. The aim of this was to gauge the current thoughts of teachers on social media, if it is being used and how. Unfortunately we only had one response below.
How do you define social media? What types do you know of? Please list.
Social media includes the various online technology tools that enable people to communicate easily via the internet to share information and resources.
Facebook
Twitter
Youtube
Edstudio
Blackboard
Distribution list (HOC – C2C network)
2.Please rate your current knowledge of social media-
10 fully up to date with social media
3. What types of social media do you use in your personal life? Please list.
I only use facebook in my personal life.
4. Do you use social media in your professional life? For example for your personal learning network? If so, what types? Please list.
In my professional career I only use the Distribution list (HOC – C2C network) which allows teachers, HOCs, HODs, deputies and principals to communicate and share resources.
5. Do you or have you used social media in your classroom?
In previous years I have use blackboards and learning places in my classrooms. It really depends on the school and access to technology. We have access to you tube videos for different curriculum areas.
6. What types and how did you use it? For example played YouTube video on topic.
Blackboards
I used blackboards as a place for students to meet online and share resources, discuss topics and access information that was shown in class. It was that had multiple purposes. A lot of the students used it to gain access to information they had missed if they were away.
YouTube
I use YouTube as a resource which allows me to show students concepts that I usually wouldn't be able to show or explain to them. It has been most beneficial in science because it gives you access to demonstrations that you could not usually do because of resources, risk assessment or even time.
7. Is your school pro social media? If yes, please briefly explain what types are used and how. If no, please state main concerns.
It depends on the definition of pro social media. My school does not allow Facebook during school hours. They are pro social media more in regards to access the learning place which is an education Queensland run website.
8. Do you personally as a professional think social media, such as Twitter, blogs, wiki, YouTube, Flickr etc are appropriate to be used in  the classroom?
Personally I think that some social media is more hassle than it is worth. Considering how much dramas Facebook can cause in a classroom I don't think it should be used.
Scott Fields       Woodcrest State College            Year 6
How Teachers are using Social Media Right Now.  How will you use Social Media?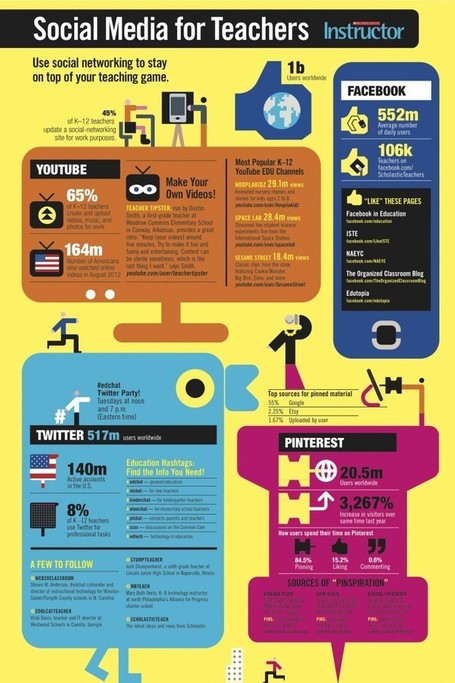 As part of this learning event the organisers have too been on a learning journey. We have cried, screamed and well I have to be honest had tantrums over not being able to 'get' these Information Communication Technologies. It is a steep learning curve and whilst I have failed at a few things I, for one, have learnt through the creation of my Twitter page, to create a Twitter account, tweet, use Twitterfall, create a story using social media, create a Twiducate account and use it to show others the way it can be in a classroom. I have also through creating and collaborating in this blog learnt to make videos using xtranormal, upload to Youtube,  to embed various links, and videos into the pages. I have also gained knowledge and understanding of wiki's and blogs. All of which I had not known prior to this event. I have also learnt to collaborate with others successfully on a unique learning journey.
It is a learning journey on reflection I have enjoyed (well mostly) because I have gone out of my comfort zone and into a place where I would find many of the students I would be teaching in the future. In a world where ICT's are not feared but viewed as amazing and new ways to do things. I hope too that you have had a journey that has expanded your knowledge and understanding.
I will leave you with these last words
Tell me…I will forget
Show me….I may remember
Involve me…I will understand
Confucius
Michelle Irving
Hello Again,
I hope you have learnt many a new thing from our blog, I for one have,  especially all the educational applications  Twitter can generate, who would have thought. As the person responsible for the creation of the blog and the setting up of the blog, my first advice to anyone attempting to implement a blog in their classroom, is become intimate with the blog site you are going to use. As that way you will be able to troubleshoot any problems your students may come across in their class or individual blogs.  I have never blogged before, either operating one or responding to post, so this experience was, also like Michelle, a huge learning curve for myself, but one I take away with a positive feeingl. Through my research I have gained a further understanding and appreciation of the effective ways in which blogs can enhance my classroom practice, I hope you all come away from our event with the same thoughts.
Kaaren
Well, at the end of this learning experience I can certainly say that I have learnt many new skills and developed new attitudes to social media as a whole.  Whilst researching I have learnt how to expand my twitter account and have become an active member.  Previously I was only "stalking" a few of my favourite people!  I have discovered a rich and never ending resource and have tweeted resources to other members for the blog. I have found that there is so much information in the social media world,  that the top skill you need to develop is to be selective and regimented.  Allow a limited amount of time to review tweets, blogs, wikis and YouTube or you can be swallowed up into the ether of the online world.
As a group we have participated in a social constructivist style of learning experience.  We have utilised facebook, twitter  and the blog itself to assist
each other with the skills required to complete specific activities; we have shared resources we have found on YouTube, and other online sources and edited documents collaboratively, creating a true  community of learning.
As I have researched wikis, I have developed more respect for them than I previously held.  As Wikipedia is the most well known and obvious wiki, I had "tarred them all the with same brush" and viewed them as unreliable sources of information.  A place to begin a journey when researching a topic, but one that was not suitable to be taken at face value, (or to good enough to be reference material!).  I viewed all wikis with this narrow style of definition and I have found that there is so much more to them.  Previously I had created a wiki for another subject, but had not been able to connect that particular assignment to ways in which I could utilise a wiki myself in my own classroom. Now however, as a pedagogical tool I can see so many applications for them, especially for small group, paired or whole class collaborative work.  I can imagine students logging in from home to review what once may have been on a Word Wall poster, or a specific vocabulary list for a Science, Maths or English Unit.  I can envision them researching a History topic and creating fact files, links to resources – things I would previously have had them participate in as a handwritten individual journal entry.  They definitely have their place in the social constructivist classroom!
I can say with certainty that whilst this was initially a foreboding task that I was not at all looking forward to, I have been proven wrong.  It has been an enriching experience (wow – an assignment that has been truly engaging, informative and which has changed my attitude!).  I hope that you explore these pages and that you also find within them something that you can utilise in your own teaching practices. Hoping that you too have had a learning experience whilst engaging in our activities.
Cheers, Christine.
This has been a very interesting collaborative exercise, YouTube, unlike the other social media sources is much more visual which makes it a fantastic learning tool as students use both visual and audio skills to interpret the information in the presentation. YouTube has the unenviable reputation of containing uncensored, amateur footage of silly antics and raunchy music videos but once you get past the rubbish YouTube can be a fantastic learning tool within the classroom.
I am much wiser after researching what YouTube is about and what it can bring into the classroom, and have learned much about other forms of social media from which the other group members have researched and added to their blog. I hope to use my new found knowledge and the knowledge within the classroom environment in an effort to engage students and encourage them on the path to lifelong learning. I hope you enjoyed making your way around this blog and that it has enlightened our outlook on using social media as a learning tool in your classroom.
Thank your for participating, Kim.